HARTSDALE NY KITCHEN CABINET PAINTING
Kitchen Cabinet Painting can revitalize your kitchen, enliven your cabinetry and save time, money and hassle. Have you considered having your existing kitchen cabinets refaced and painted? Resurfacing is fast and effective, when paired with repair, refacing and/or painting we can reinvent your kitchen or other rooms featuring cabinetry.
We will be happy to educate you on the process as well as our company's offerings and service lines.
If you have never been in a home that has had kitchen cabinet re-finishing it can be hard to imagine, we can bring samples over and show you exactly how it looks. Cabinet painting is one of our more popular services, it is something we do frequently and with remarkable results. Want to learn more? Contact us today.
When we say cabinets we are talking about bathroom vanities, planning entertainment centers to built-ins and more, really anything with interior doors is eligible.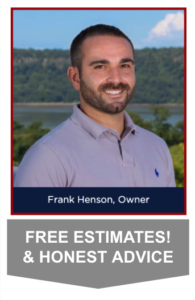 CONTACT US TODAY FOR A FREE PAINTING CONSULTATION AND QUOTE
KITCHEN CABINET PAINTING POPULAR HARTSDALE PROJECTS
Light Cabinet Painting :
Brighten up your kitchen or achieve the popular "ice white" motif with light or bright white cabinets!
Cabinet Refacing :
allows homeowners the flexibility to completely reinvent the look, feel and function of their cabinets.
Custom Cabinet Painting :
A pop of color in the kitchen can make an ordinary kitchen extraordinary!
Cabinet Refacing
Your cabinets are so much more than storage for your pots and pans. Your kitchen cabinets are the core architectural feature of your kitchen and the first thing you and your guests see when they enter the room. Kitchen cabinets are the focal point of your kitchen and are designed to enhance its shape, size, and flow.
The color, texture, and condition of your cabinetry inform your perception of the space as a whole.
Cabinet painting, refacing and repair will refresh and reinforce your home's cabinets in a matter of days with little to no mess. Cabinet painting, refacing and repair will refresh and reinforce your home's cabinets in a matter of days with little to no mess.
When considering a kitchen upgrade one of the most significant expenses on your list will be the cabinetry. Have you explored all of your options?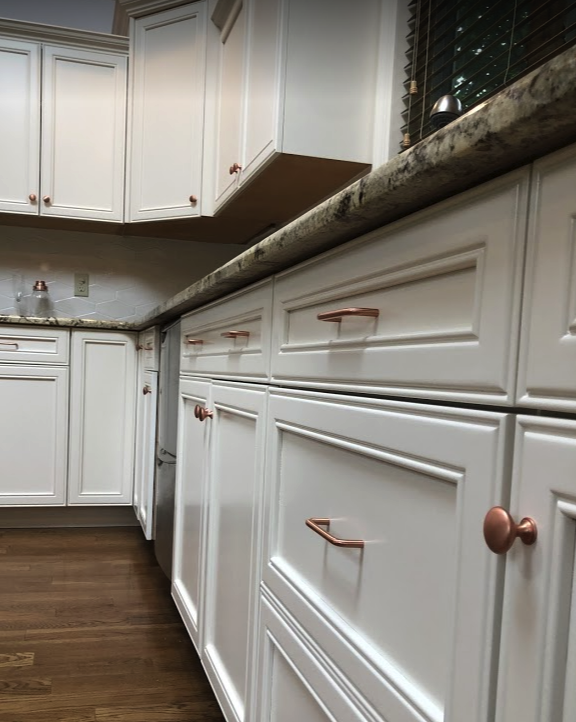 WHY REPAINT YOUR CABINETRY?
Cabinet Painting and Refacing is one of the most economical ways to update your kitchen

We restore and factory refinish your old cabinets making them look brand new again

When you paint or refinish or repair your kitchen cabinets you're reducing your carbon footprint!
THINKING OF PAINTING OR REFINISHING YOUR KITCHEN CABINETS?
Our team can help refinish your cabinets, paint them, reglaze them or restore them to their original factory finish.
Kitchen cabinet refacing can include repair, re-design, and reinforce your existing cabinet frames
Wondering if your cabinets are reface-able? In most cases, the answer is yes!
Cabinet refacing delivers the most significant return for your dollar
We can change the way your cabinets function with storage upgrade options, available during refacing.
HARTSDALE NY KITCHEN CABINET PAINTING & REPAIR, REFACING
Hartsdale NY Cabinet Repair
We can change the height, depth and pitch of your cabinets, want to move things around? No problem! Add modern storage options like racks, rails, and sliders? We have you covered. Indeed we are only limited by time and space, no shortage of creativity or know-how here.
We partner with one of Westchester's best-known carpenters, Westchester Carpentry on all wood finish and repair work.
KITCHEN CABINET PAINTING CONTRACTOR SERVING HARTSDALE NY & A PROUD MEMBER OF THE WESTCHESTER TEAM!
Has your kitchen lost its original charm and luster? Have you watched your kitchen cabinets fade over time? It happens, painted or finished cabinetry (no matter where it is in the house) will fade over time.
We see it first in the areas around the handles, they look worn down from daily use, a bit stained by the natural oils on our hands and finally one day, they look old, faded and many tones darker than they once were. Here at Westchester Painting, we have many solutions we can use to bring your kitchen cabinets back to life with an indeed renovated, rejuvenated new look – without the costs of replacement!
KITCHEN CABINET PAINTING CONTRACTOR HARTSDALE NY
FAQs About Cabinet Painting in Westchester
We've compiled a list of frequently asked questions about cabinet painting along with their answers to help you decide if our cabinet painting service is right for your home. NY
One of the newest trends in home improvement includes painting your cabinets. Since cabinet painting might be new to you, it is a pretty safe bet that you have some questions about it.
If I paint my cabinets will it last?
The easiest answer is that it depends on the level of quality of the cabinet painting job itself. A job done right, using the right quality of the paint will not chip or fade for a very long time. That's a major reason to consider a professional when it comes to painting your cabinets.
Does painting cabinets require some special preparation?
Yes, surface preparation is the key to a quality cabinet painting job. These steps commonly include:
A complete dismantling of all cabinet components.
Sanding all surfaces to break down the existing finish.
Wiping down the surfaces to get rid of the gloss of the previous finish with a cleaning agent.
Pre-paint preparation with a bonding primer.
For oak or dark stained cabinets, another treatment is often used to seal the grain and block any stains that might bleed through the paint. Note to the homeowner: this is also the point in the cabinet painting project where we can fix broken or worn cabinets and if you, choose to; remodel, reposition or even build custom cabinet solutions into your existing cabinets.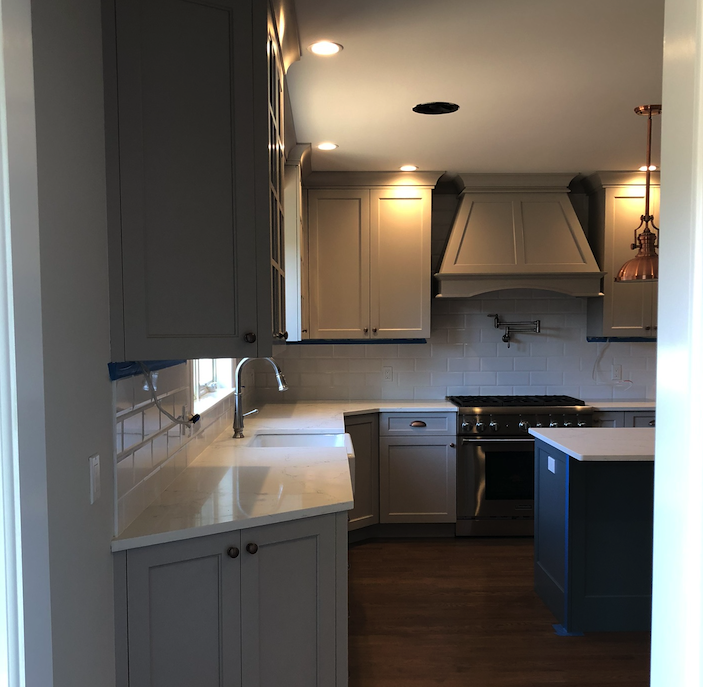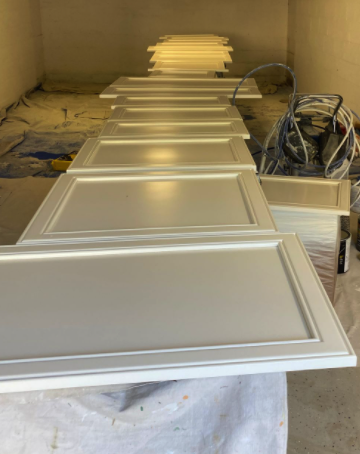 Ready to get started? Contact us today! Window shoppers welcome!