CONTACT US TODAY FOR A FREE PAINTING CONSULTATION AND QUOTE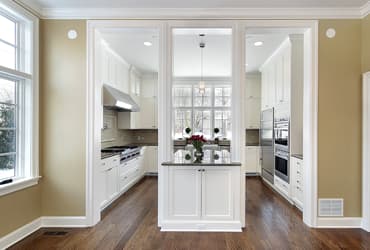 Westchester County interior painting services
Westchester Painting provides a wide-range of professional, worry-free interior painting services, ensuring our customers enjoy the experience of working with an expert team.

Westchester's premier exterior painting company.
We are a local, family-owned, licensed exterior painting company offering Westchester County homeowner's a new level of precision and professionalism.
CABINET REFACING
Cabinet refacing is a cost-effective solution, refacing existing cabinets saves time and money while reducing the mess and stress of designing, installing and finishing all new kitchen cabinets.
CABINET REPAIR
Repairing your old or worn cabinets can inject new life into your home and modernize its overall look and feel; making broken or run down cabinets fresh and functional again.
DRYWALL SERVICES
We offer professional drywall repair and installation services for our commercial and residential customers from ceiling repair & patches to wall repairs and water damage repair.






WHY CHOOSE WESTCHESTER PAINTING?
Family owned and operated!

Fully licensed and insured!

Fast, Affordable, Professional Services!

Backed by the full complement of services offered by the Westchester Team!
Thinking Of Painting Your Home ?
The Benefits of Painting Your Home's Interior and Exterior
Improve Your Curb Appeal. Painting your home is one of the easiest ways to improve your home's curb appeal. A new coat of paint can bring dramatic results to your home's overall appearance.
Paint can protect the surfaces of your home from walls to cabinetry and from baseboard to built-in units.
A new paint job on your home will likely raise your property value.
When you choose to repaint your house you can adopt colors that complement your homes larger design themes. (If you need help we have designers on staff!)
Client Testimonials
We offer both interior and exterior painting services to residential and commercial customers throughout Westchester County. Our painting services have been designed around the needs of our customers.
"Frank came out to my house to re-surface my cabinets. His prices were fair and his process transparent. I felt like I had a real partner in the project from planning or completion. The quality of the work is great, and the timeline was much faster then I would have imagined. I have already recommended him."

"I met Frank after working with Rick of Westchester Carpentry, what a well-oiled machine these young men are running. Rick completed a flawless custom built in at my Rye, NY office and before I even thought about having the baseboard painting to match the decor he had Frank meet with me to talk options. Thanks, guys!"

"A pleasure to work with! Frank and his team were a pleasure to work with. Communicative, responsive and reasonable prices. I will certainly be calling Frank back for future painting projects around the house."
Westchester Painting Contractor
INTERIOR PAINTING CONTRACTOR SERVICES WESTCHESTER COUNTY PROUD MEMBER OF THE WESTCHESTER TEAM!
At Westchester Painting we work hard to complete every project we take on – on time, on budget and to our customers' complete satisfaction. We've got a reputation! And we are doing all we can to keep it. Becoming synonymous with home painting excellence is core to our mission of reinventing the standard of home painting here in Westchester County. You will see the difference from our first call to the final walk around.
My team will always keep a clean and tidy job site, respecting your schedule and any special requests you may have. Other teams may say it, but we mean it! Your complete satisfaction is our first priority.
Westchester Painting is a fully licensed and insured home painting contractor serving Westchester County, NY with services ranging from interior and exterior painting to drywall installation and repair to cabinet repair and refacing. Should you have a question about a potential project? Please, feel free to reach out and give us a call- we'll be happy to help and answer any of your questions.
WESTCHESTER PAINTING CONTRACTOR
We offer both interior and exterior painting services to residential and commercial customers throughout Westchester County. Our painting services have been designed around the needs of our customers.
Interior Painting Services
Our interior painting services include painting, drywall, plaster repair wallpaper: stripping and installation. A fresh coat of paint will turn back the hands of time inside your home offering you an opportunity to modernize, expand and improve the appearance and energy of the room. Our painters are detail-orientated and take great care in the work we do. From single rooms in need of a professionally finished accent wall to a home addition in need of complete finishing, we can help. Look to our talented team of designers, painters and home improvement experts for assistance at each phase of your improvement project.
Exterior Painting Services
Our team can help revitalize the look and feel of your Westchester County home! Painting your home is faster and more affordable than re-siding and shares many of the same dramatic results. Our exterior painting services provide a lasting impact on your home's outward appearance. Want to boost your homes curb appeal? We've got you covered. We can paint your houses siding, trim, gutters, window frames and more. Looking to add just a pop of color? Hire my painting team to re-paint your front door to wow and welcome visitors.
CONTACT US TODAY FOR A FREE PAINTING CONSULTATION AND QUOTE